About Me
Genderqueer with a touch of happy humanism.My primary blog is
on Blogger
now. Questions? Comments?
Click here.
Even if you just need one single person in this world to listen to your thoughts.
Nobody is an island.
Nerd is my gender -
what's yours?
My pronouns: He/him, ze/hir for advanced English speakers.
What it feels like being genderqueer
in a cis world.
My message
to
grues.
Genderqueer atheists can sometimes feel like we're each the only one on the planet, but now we have
a Google+ community
and
a Facebook group
to bring us together!

I'm on Google Plus!
I'm on Facebook
Tweets by @AndyTehNerd
"If you're not sure what herbs would taste good, eat an olive and then go smell some herbs. Whatever smell mixes well with the taste of the olive in your mouth will probably taste good in the bread."
—
Something about this quote makes baking bread seem so sexy.
easy dulce de leche $1.38 recipe
Because this looks amazing, that's why.
from Budget Bytes by Beth M:
Oh boy, I may have done a bad thing when I made this… I may have opened Pandora's box. Now I want this delicious dulce de leche on everything. I've been sneaking spoonfuls out of the fridge just to get a "fix" all week.

Dulce de leche, which translates to "milk candy", is a delicious caramel like dip. It is usually made by slowly cooking milk and sugar until the moisture boils off and the sugars caramelize leaving you with a thick, rich, creamy sauce.

Although it is printed clearly on every can of sweetened condensed milk NOT to heat the cans unopened, one of the most common ways to make dulce de leche is to boil the unopened cans in a pot full of water on the stove for 3-4 hours. Now, that method is very dangerous because the temperature is difficult to control and if too much water boils away the internal temp of the can will keep rising until it explodes. I've seen this happen. It's not pretty and caramel is nearly impossible to clean off of the ceiling and walls.

Using a slow cooker is much, much safer (although, the danger still exists). A slow cooker will maintain a fairly constant temperature (and a much lower temperature), the lid will prevent the water from boiling off and most lids secure into place with a clamp which would help stifle an explosion. BUT, the can still warns against heating unopened cans… so… follow this recipe at your own risk.

Okay, so if you haven't been scared off, this recipe is so super easy that it's almost unfair. Not to mention, you can make a batch of it for about $1.50 which is far less than the bottles of caramel ice cream topping or dip that you'd buy at the store. What can you use it for? Dipping fruit, topping desserts or stir it into your coffee drinks. It tastes exactly like those little square caramel candies that you can buy around Halloween time.




Total Recipe cost: $1.38
Prep time: 5 min. Cook time: 8 hrs. Total: 8 hrs 5 min.



INGREDIENTSCOST1 (13 oz) cansweetened condensed milk$1.38TOTAL$1.38


I find it convenient to make multiple cans at once. The extras can be stored in the refrigerator.

STEP 1: Remove the label from the can(s). Place the can(s) in the slow cooker and fill with water. The water needs to come at least one inch above the top of the can to maintain proper, even heat. Secure the lid on the slow cooker, set the temperature to LOW and let cook for 8 hours.

STEP 2: After 8 hours, turn the heat off, remove the lid of the slow cooker and allow the water and cans to cool undisturbed. Once cool, open the can and remove the dulce de leche. It is ready to serve! Store leftovers in the refrigerator.




Step By Step Photos



Start with a can (or cans) of sweetened condensed milk, NOT evaporated milk. It needs the extra sugar that is in sweetened condensed milk for caramelization.


Remove the labels from the cans and place them in the slow cooker. Fill the slow cooker with water until it covers the cans by one inch (there is water in that picture but you can't see it because it's CLEAR! HA!). Secure the lid on the slow cooker, turn the heat on to LOW and let cook for 8 hours.


After 8 hours, turn off the heat, carefully remove the lid of the slow cooker and allow the water and cans to cool undisturbed. Once cool, the dulce de leche is ready to serve! 


Completely decadent!


I labeled and dated my extra cans and am keeping them in the refrigerator (in case the seal was compromised on a microscopic level as the can oxidized in the water and heat).


The sweet and creamy dulce de leche was PERFECT with tart granny smith apples!


Hellooooooo delicious!

The longer you cook the dulce de leche, the darker and thicker it will get. So, if you prefer a lighter, more fluid dulce de leche, let it cook for about two hour less or carefully remove the cans from the hot water and let them cool in the air which will stop the cooking process sooner.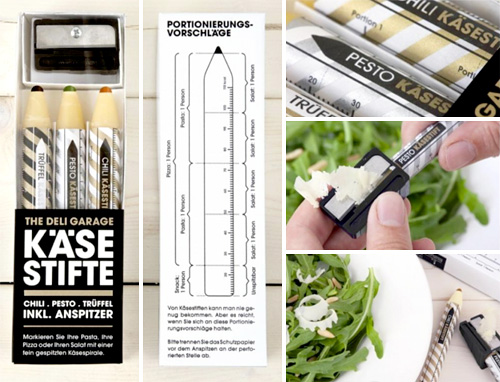 The cheeses are shaped like oversized pencils, where the "leads" contain three different flavors: truffles, pesto and chilli. With the sharpener included, the required amount of cheese can be sprinkled on the dish. A scale on the pencils and on the back of the packaging doesn't just simply list how much of the Cheese Pencil is needed for each dish, but even how many calories the portion contains.
What if not just cheese, but all spices could be compacted into a stick like this?
Molars Indicate Cooking Is Almost 2 Million Years Old
Cooking makes a huge difference—it softens the food and dramatically reduces eating time. Researchers calculated that if we lived like our non-cooking primate cousins, we'd spend about 48 percent of the day eating. But modern humans spend only about 5 percent of the day chowing down. So when our ancestors invented cooking, it gave them a major survival advantage.
That's part of why I love cooking - it connects me with humanity.
Celebrity Chef Ted Allen Cooks His Favorite Pretentious Foodie Bullshit Meal [Video]
Jim and Tracy welcome Celebrity Chef Ted Allen on Today Now! to show them how to make the most obnoxious, contrived meals for your dickhead foodie friends.
This is how I feel reading through some of my cooking blogs.  The irony is that a few of them purport to be of the "it's so easy to be vegan!" variety.  I'm like "dip it in what? cook for how long? where the hell do I find that shit anyway?"  For avoiding such headaches, I recommend Budget Bytes.
Trader Joe's Turkey-Less Roast is "New and Improved" for Your Vegetarian Thanksgiving Dinner
Bought 2 of these and can't wait to try!
My recommendation for cooking a vegetarian roast: rub it with soy sauce (and/or liquid smoke) to give it a bit of color and extra roasty flavor on the exterior. As someone mentioned in the linked comments, these sorts of roasts do not brown like meat does.
When I made Tofurky last year, I cut it in half, placed the halves cut-side-down in a roast dish, and then surrounded it with veggies and seasoned broth. After cooking, if you thicken the broth (with starch or flour of your choice), it makes a spectacular gravy!